A few weeks ago, we applied to the Prince's Trust Volunteers to see if they would come and sort out the pathway through the community nature garden. Last Thursday, they called us to let us know that our application had been successful and we are their chosen community project for this autumn!

This means that over the next couple of weeks, the Prince's Trust Volunteers will be pitching up to help us to build the pathway through the garden from Palatine onto Palatine Avenue.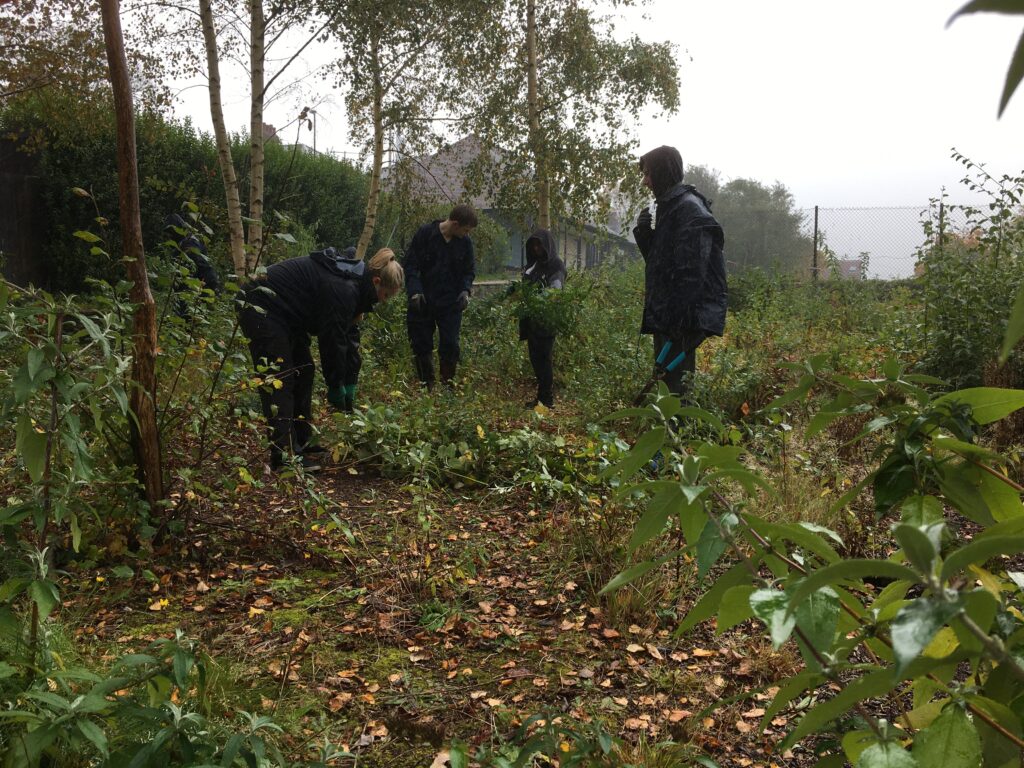 Today was their first day – and we welcomed them in the rain! Did they let a bit of rain put them off though? Did… They… Not…
As soon as they arrived, they picked up their spades, rakes and sheers (supplied at very short notice by the City Council – thanks Stef!) and they cracked on with lopping, chopping and digging. The good news is, they will be back again tomorrow and for the next couple of weeks 🙂 So if you happen to be walking through Palatine, come and say 'hello' and see what they're up to. They're a friendly bunch and we are really grateful that they are coming to help improve the space.
This is the first of several outdoor projects which will be happening at Palatine over the next couple of months (COVID restrictions permitting). In fact it feels like the right time for projects at Palatine to capitalise on the fact that working in the great outdoors is the safest and easier thing to do right now. I can safely say that a couple of hours of working with other people, even in the rain, is a great way to lift your mood… for free… 🙂
What is the Prince's Trust Programme?
The Prince's Trust Programme is run in conjunction with Lancashire Fire and Rescue Service. It offers a 12 week full-time course to young people aged 16-25 and is aimed at improving confidence, motivation and skills. It is available for both unemployed and employed young people, it includes work experience, careers advice, qualifications, challenging projects, community action and an action-packed team building week-long residential. Find out more at https://www.lancsfirerescue.org.uk/education/adults/